Danville Services renewed its commitment to our Direct Support Professionals during National Direct Support Professional Week this September.
Danville DSPs are the lifeblood of the company and DSP Week gives us an official framework each year to set aside time for recognition of a thousand jobs well done.
The company-wide theme this year was Together, We Are A Family. The focus was on the many amazing ways our DSPs foster family-type relationships through the vital work they do every day.
As part of this year's celebration, we asked employees and clients alike to submit their best t-shirt designs in support of the theme. The winning design belonged to Leila Encinas of Mesquite, Nevada with her angel wings design: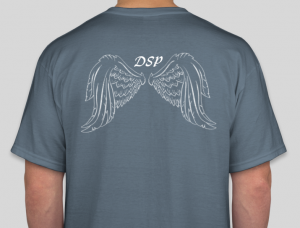 This year, we also produced a Danville DSPs Book, which is now available to view in each regional office.
The book includes all the t-shirt designs submitted, plus great photos and thoughts from some of Danville's fantastic DSPs.
Also, inscribed within the book are some thoughts from of our CEO, Bill Woolston:

What does it mean to be a member of our Danville family?

Our family is rooted in our mission of helping each person served achieve their desired quality of life. Quality of life has many different meanings for each person we support.  For many, it means choice, satisfaction and participation. While we pursue these achievable goals for all who we support, I'm mindful that every DSP wants the same. 

DSP Week is the time when a light is shined on the hard work and sacrifices that all our Direct Support Professionals make throughout the year. It is a time for us to reflect on the improvements we've made in the lives of those we love and support. Being a member of the Danville family means we've got your back with all the training and resources you need to be successful. Being a member of our family means that we are bigger, better, wiser and stronger as a team than we are as individuals. It means acceptance of our differences, and celebration of our diversity while working hard together to meet the needs of our clients. 

Our family knows no boundaries as we are committed to each other's success. We succeed as a company when the people in our care experience joy and our DSPs are the major contributors to that joy. Creativity is the mainstay of our services and the number of t-shirt art submissions this year speaks volumes. After tallying all our votes, the winning design this year represents wings. I liken it to a guardian angel or the idea that we take all in our care under our collective wings to protect. Our DSPs are always in motion and fly they do.

Thank you all for another great year in supporting our clients and our mission. Wear your shirts with pride as you are the heart of what we do and no one does it better than Danville DSPs!