Danville Services of Oregon, based in S.W. Portland, began providing essential support services to people with disabilities in 1997. Today, our programs are located throughout Marion, Washington, and Multnomah Counties.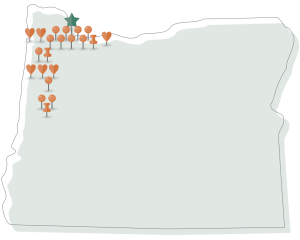 We support individuals with intellectual and/or developmental disabilities, as well as people with co-occurring mental health needs, behavioral needs, and complex medical support needs. Our intimate residential settings help our clients gain a sense of independence and more successfully integrate into the community.
Danville Services of Oregon recognizes the importance of collaboration and teamwork, and as such is committed to providing real-time transparency to guardians and family members of the individuals we support. We offer online access to all documentation including Incident Reports, on-going chart notes, medical and medication administration records, etc.
Now Hiring In Oregon
Direct Support Professional-Oregon (Portland, OR)
Contact Us In Portland
Danville Services of Oregon
9700 SW Capitol Hwy, Suite 240
Portland, OR 97219
(503) 228-4411