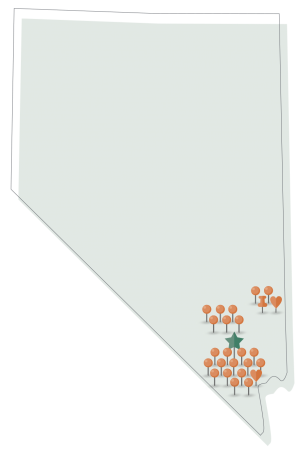 Danville Services of Nevada has been providing quality supports to people with disabilities in the Las Vegas metro since 1992. Danville provides supports to clients with a variety of disabilities including but not limited to developmental disabilities, autism, seizure disorder, cerebral palsy, behavior disorders, psychiatric diagnosis and intensive medical conditions.
Our residential and day programs are located throughout the Las Vegas area and Mesquite.
Currently, we provide an array of residential and employment supports to approximately 150 people in Nevada. Our doors are open to all, as we can also arrange to provide supports on a private-pay basis. Residential and employment supports are customized according to the needs of each individual client.
We pride ourselves in providing rich, caring environments and comprehensive care to those in need. Our team of dedicated professionals are ready to serve others with kindness, sensitivity, and with an unwavering commitment to quality support services.
Now Hiring In Nevada
Las Vegas Direct Support Professional (Las Vegas, NV)
Las Vegas Direct Support Professional (FLOAT - Full-time) (Las Vegas, NV)
Las Vegas Lead Direct Support Professional (Las Vegas, NV)
Las Vegas Program Manager to Support Adults with Disabilities (Las Vegas, NV)
Las Vegas Qualified Intellectual Disabilities Professional (QIDP) (Las Vegas, NV)
Las Vegas Quality Assurance & Staff Development Assistant (Las Vegas, NV)
Las Vegas Quality Assurance and Staff Development Advocate (Las Vegas, NV)
Mesquite Direct Support Professional (MESQUITE, NV)
Contact Us In Las Vegas
Danville Services of Nevada
4343 North Rancho Drive, Suite #234
Las Vegas, Nevada 89130
(702) 838-0222